"Charleston is key to world research of understanding dolphins"
So reads the headline of a great article in today's (Feb. 15, 2023) Charleston City Paper, written by Lucy Dixon. The National Marine Mammal Foundation (NMMF) is partnering with the Southeastern Wildlife Expo (happening Feb 17-19) to showcase programs that educate the public on ways to support our dolphin population.
Research on our Charleston resident dolphin population began in the 1990s with NOAA lab at Fort Johnson, Hollings Marine Laboratory under the guidance of Dr. Pat Fair.
HOW I GOT INVOLVED
I was fortunate to have Pat take me under wing as I did research on Atlantic Bottlenose Dolphins.  I joined the team in zodiac boats as they patrolled our local rivers and creeks to identify the local dolphin population. I'd hear one shout,  "Dolphin 2 o'clock!" and scramble to find it. Did you know that the dorsal fin of a dolphin is an identifying mark much like our fingerprints?  The team photographs the dorsal fin of resident dolphins to check how the locals are doing.
RESEARCH FOR LOWCOUNTRY SUMMER SERIES
I researched dolphins for six years as I wrote The Lowcountry Summer Series (The Summer Girls; The Summer Wind; The Summer's End; A Lowcountry Wedding).  I went out on trips with NOAA and also volunteered at the Dolphin Research Center (DRC) and MOTE Marine Laboratory and Aquarium in Florida.
Of all the animals I've worked with in the past 25 years, dolphins are in a league of their own. I modeled the dolphin in my series named Delphine after the matriarch at the DRC known as Tursi.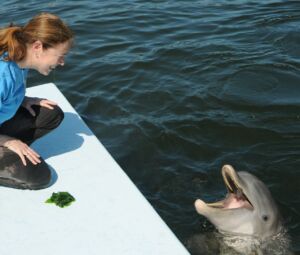 health and survival of dolphins
But looming large in my memory is the time I accompanied the NOAA team for one incredible research project conducted only once every decade.  These assessments are critical for the health and survival of this sentinel species for our environmental and ecosystem health. The dolphin capture-release health assessment study for Bottlenose Dolphins involved a large team of researchers—and boats.
a week i'll never forget
A long line of boats filled with biologists (salt-water cowboys) went out together to physically jump in the water and corral dolphins for samples. Everyone was filled with excitement. It was a week I'll never forget. The work had strict safety protocols for dolphins and humans. I was on the larger medical boat.  The last dolphin on my watch was a female who was beautiful and unusually serene. Everyone remarked on it.  It turned out that she had been tagged a decade earlier, so she knew what was going on. This was a gorgeous, healthy female in her prime and I was privileged to be selected to release her back into the water. I held her, tears in my eyes, and watched her dart away. I was filled with respect, love and concern for her future in water where 49% of our resident population are deemed not healthy. I knew, at that moment, how to end my book series.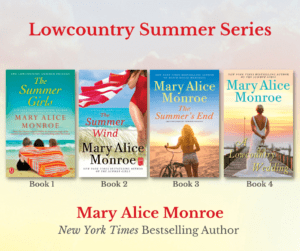 GOOD TIPS TO TAKE CARE OF DOLPHINS
We all love the Atlantic Bottlenose dolphin.  Many of you may have watched the movie Flipper. I get that. But, do we all know how to best take care of our beloved mammal friends? Here are some good tips we all should practice:
Do not feed the wild dolphins. Ever. Not one bite. Remember, if everyone tossed "just one bite," that's hundreds/thousands of bites.  We are creating a generation of "beggar" dolphins, like the bears at Yosemite Park. Fatal mistake.
Do not try to touch or get too close to dolphins. Their smile looks sweet, but that's how God made them. They don't want to be touched and may let you know it.
If you are ever fortunate enough to watch a strand feeding, keep your distance! Dolphins are vulnerable in this activity. I like to keep the location of this behavior private to avoid crowds.
Dispose of your medicines properly. One simple step can make a huge difference. Take your old medications to a pharmacy that will collect them. Do not flush medicine down the toilet! The medicine is not all filtered and goes directly to dolphins, as well as to the fish that you will eat.  We are all in the water together.
Donate to the NMMF, or sign up to volunteer with the SC Marine Mammal Stranding Network, or support an agency or organization that is dedicated to protecting our resident and non- resident dolphins.
Educate yourself and your family and friends about dolphins (not porpoises!) Read this excellent article in the Charleston City Paper, as well as other information on how best to support our marine mammal friends.