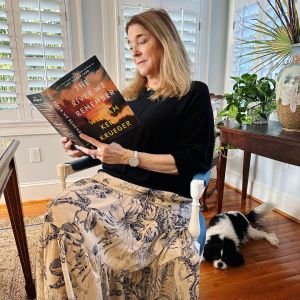 MY FALL BOOK RECOMMENDATIONS
Fall is a season of introspection, of cooling temperatures, and preparations for the holidays ahead. No matter the time of year, I have a stack of books I'm reading or re-reading. 
Here is my personal list of recommendations for cuddling up with a good book. I'll begin with books from the featured authors I will welcome to the stage at the 19th Annual Wild Dunes Author Event with Mary Alice Monroe this January 2024. I'm a fan of these writers and I think you'll enjoy their mysteries and thrillers.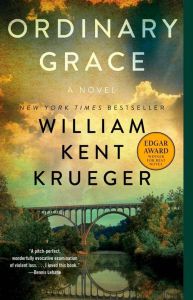 ORDINARY GRACE by William Kent Krueger
I became an instant fan of William Kent Krueger after reading This Tender Land. And, now I also recommend to friends the novel that preceded it, Ordinary Grace.  This book exploded on the market and racked up several awards, including the Library Journal Best Book of 2013. 
A teenage boy narrates the story.  When tragedy unexpectedly strikes his family—which includes his Methodist minister father; his passionate, artistic mother; Juilliard-bound older sister; and wise-beyond-his-years kid brother—he finds himself thrust into an adult world full of secrets, lies, adultery, and betrayal.  Here's the thing about Krueger—he finds humanity in all this and when you close the book, you sigh with satisfaction after a wonderful journey.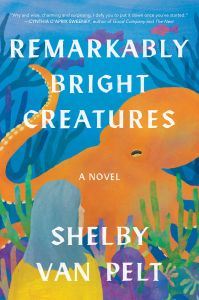 REMARKABLY BRIGHT CREATURES by  Shelby van Pelt
This is Shelby Van Pelt's first published novel, and I've got to say that Remarkably Bright Creatures is a stunning debut. I'm thrilled she'll be coming to my beach town so we can talk to her about it in January!
Tova becomes acquainted with curmudgeonly Marcellus, a giant Pacific octopus living at the aquarium. Marcellus knows more than anyone can imagine but wouldn't dream of lifting one of his eight arms for his human captors—until he forms a remarkable friendship with Tova. This is a charming, witty and compulsively enjoyable exploration of friendship, reckoning, and hope that traces a widow's unlikely connection with an animal.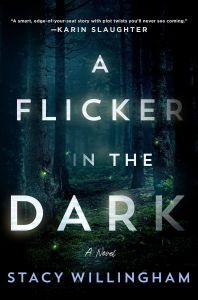 A FLICKER IN THE DARK by  Stacy Willingham 
Stacy Willingham is a Charleston native, and I'm Iooking forward to welcoming one of our own to the big stage in January. She'll be releasing her third, highly-anticipated novel at our Wild Dunes Author Event Weekend! A Flicker in the Dark is her debut that launched her career! It's a real page-turner that will keep you guessing (and might keep you up past your bedtime)!
When a local teenage girl goes missing, and then another, a terrifying summer from the past comes crashing back. Is Chloe paranoid, seeing parallels from her past that aren't actually there, or for the second time in her life, is Chloe about to unmask a killer? A Flicker in the Dark is eerily compelling to the very last page. Read this and then get ready for her new book in January titled Only If You're Lucky.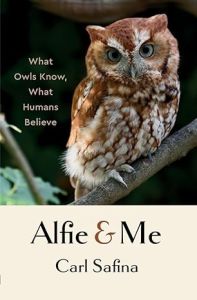 ALFIE AND ME by Carl Safina
I recommend Carl Safina to everyone! No one writes more movingly about our connection to the natural world, and this time he will touch your heart with his story of his one year relationship with a small screech owl he adopted. A moving account of raising, then freeing, an orphaned screech owl, whose lasting friendship with the author illuminates humanity's relationship with the world.  It's a feel good book that will reaffirm what your instincts tell you—that we are all connected.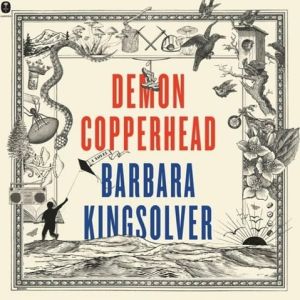 DEMON COPPERHEAD by Barbara Kingsolver
I love a good audiobook and this one is great!  Barbara Kingslover's Pulitzer Prize winning novel knocked socks off.  Written in the fresh, original voice of Demon, a poor Appalachian boy, life lessons are delivered in a quick-witted, startling, and heart-rendering fashion. Kingsolver was inspired by Dicken's classic David Copperfield, but she didn't copy it. Instead, she revealed the harsh realities of the poor and forgotten children in this country without slipping into the corny or maudlin. I loved the audio because the actor was superb, and because of the slang, it's easy to understand.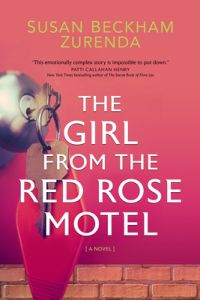 THE GIRL FROM THE RED ROSE MOTEL by Susan Zurenda
This quiet book packs a punch by fellow South Carolina writer Susan Zurenda. The Girl from the Red Rose Motel was inspired by Susan's experiences teaching in a South Carolina high school. The novel is also an unflinching, authentic look at the challenges faced by America's public school teachers and the struggles of the thousands of homeless children in motels who live, precariously and almost invisibly, amid the nation's most affluent communities. This story is a wake up call that will leave you blinking and grateful for the lessons learned. Beautifully written and inspiring!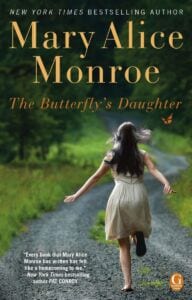 THE BUTTERFLY'S DAUGHTER by Mary Alice Monroe
I'm ending my Fall list of book recommendations with one of my own novels because fall is the perfect season to read The Butterfly's Daughter, set against the miraculous migration of the monarch butterflies. 
Every year, the monarch butterflies – las mariposas – fly more than two thousand miles on fragile wings to return to their winter home in Mexico. Now Luz Avila makes that same perilous journey south as she honors a vow to her beloved abuela – the grandmother who raised her – to return her ashes to her ancestral village. 
FUN FACT: I journeyed to the mountain sanctuaries in Mexico for this book and every scene I wrote about those intrepid travelers was inspired by my own experiences. I knew I had to share them with you in this novel.
I hope you'll add one of these titles to your fall reading stack. And, do let me know of a book you highly recommend! What are you reading this season?
YOU'RE INVITED TO THE BIGGEST LITERARY EVENT AT THE BEACH
And this is my personal invitation to YOU to join us in my seaside town– Isle of Palms, SC– to enjoy the 19th Annual Wild Dunes Author Event with Mary Alice Monroe. The main event is Sunday, January 14th, but you have the option to enjoy additional events for the weekend. Come experience how wonderful winter is at the beach here in the Lowcountry, and bring your dearest book-loving friends to enjoy the season's biggest literary event in the Charleston area.