For nearly twenty years, I've spearheaded the Wild Dunes Author Series, in partnership with Wild Dunes Resort, right here in my island town, Isle of Palms, South Carolina. When I launched this endeavor, I had two simple goals for my passion project. The first, to connect readers with influential authors in intimate ways. And the second goal, to raise thousands of dollars for Lowcountry-based literacy programs.  
The tradition continues this January with a stellar line-up of award-winning, bestselling writers at the 19th Annual Wild Dunes Author Event and Weekend to be held January 14-15, 2023 at Wild Dunes Resort on the Isle of Palms. Tickets are on sale now.
This year our series is featuring some of the best mystery and thriller writers! I'd like to showcase them now.
Drum roll please….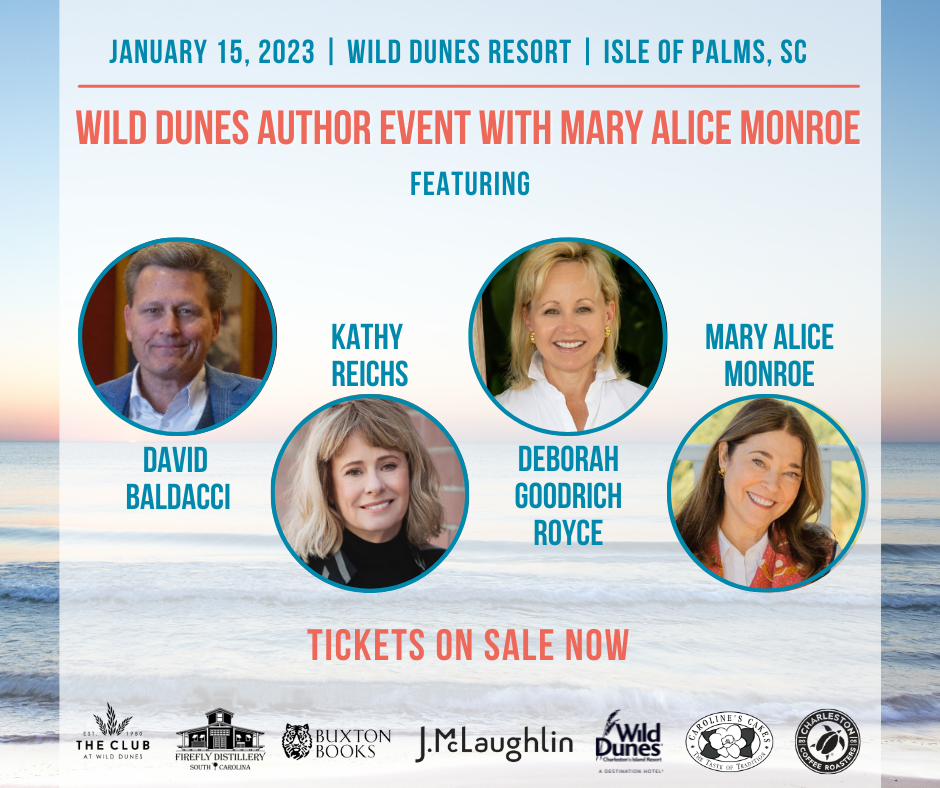 David Baldacci is beloved for his bestselling suspense and legal thrillers. Baldacci became famous for his first novel Absolute Power in 1996, with a film adaptation that followed starring Clint Eastwood. David is also the author of both a young adult and middle grade series. His latest novel, Long Shadows, will be a featured title at the event and is #1 on the New York Times list. David is also the author of both a young adult and middle grade series. His latest novel, Long Shadows, will be a featured title at the event and is #1 on the New York Times list. This is David's first trip to Charleston ever!
Kathy Reichs is a blockbuster author of forensic thrillers and most famous for her Temperance Brennan novels. The novels inspired the long-running hit American crime television series, Bones which ran for twelve years on Fox.  Reichs is also the co- author of a young adult series.  Her latest novel, Cold Cold Bones, was an instant NY Times bestseller when it was released last summer and is a featured title of the event. Kathy is my friend and neighbor on Isle of Palms and some of you might have met her years ago with her kids, Kerry and Brendan, at a previous Wild Dunes Author Event.
Deborah Goodrich Royce is an award winning, bestselling author of three notable literary thrillers.  Royce is also known as Silver, Erica Kane's sister in the long-running ABC soap opera, All My Children, along with feature films and TV movies. Royce hosts a literary series at the renowned Ocean House Hotel in Rhode Island. Deborah's latest novel, Reef Road, will be a featured title at the event. I absolutely love her and you will, too!
Tickets to the 2023 Wild Dunes Author Event and Weekend are on sale now! CLICK HERE to reserve your seats now.
And read on below to learn more about this annual literary fundraiser!
WHAT TO EXPECT AT THE WILD DUNES AUTHOR EVENT
Guests will experience an in-depth and lively author conversation moderated by award-winning and NY Times bestselling novelist Mary Alice Monroe, who is an Isle of Palms resident and the creator of this literary series. Together on stage, in an intimate setting, she'll dive deep into the authors' storied careers, their personal lives, and what inspires their blockbuster mysteries.
In addition to the hour-long conversation, the afternoon includes an author book signing hosted by Buxton Books. Guests can get their autographed hardcover book of choice that's included with their ticket and get it personalized and meet all the authors. Additional books will be available for purchase by Buxton Books. There will also be an exclusive silent auction; a signature cocktail by local spirits maker Firefly Distillery; plus a coffee bar showcasing Beach House Blend coffee created by Charleston Coffee Roasters and inspired by Mary Alice Monroe's novels; delicious cake from South Carolina's award winning Caroline's Cakes, and hors d'oeuvres showcasing the flavors of Wild Dunes Resort. Also, new this year, we will welcome clothing retailer J.McLaughlin, a generous sponsor, which will offer guests a special shopping experience at their pop-up shop.
All proceeds from the Wild Dunes Author Event with Mary Alice Monroe and the silent auction will directly support the Pat Conroy Literary Center, a 501(c)(3) organization based in Beaufort, SC that nurtures a diverse community of writers, readers, teachers, and students through educational programs and collaborative special events. Cassandra King Conroy will be in the audience to spotlight the PCLC and accept our donation.
All of the authors are generously donating their time to support this meaningful fundraiser and we are grateful to our sponsors for their generous support.
Guests who reserve their tickets to the January 19th Wild Dunes Author Event with Mary Alice Monroe unlock access to an array of additional offerings! Please note, this year we have provided two types of tickets available for purchase online.
General Admission Ticket: $65.00

The general admission ticket includes general seating

,

one of the featured hardcover titles, and the opportunity to participate in all of the weekend events.

VIP Ticket: $85.00

The VIP ticket is our fast access ticket. It includes first access to premiere seating in the rows in front of the stage, first in line at the authors' signing tables, and one of the featured hardcover titles. There are a limited number of VIP tickets available and they are sold first come-first serve.
All tickets include your choice of one featured autographed, hardcover novel. Make your selection when you reserve your tickets online. 
WILD DUNES AUTHOR EVENT WEEKEND AND HOTEL PACKAGE
Back by popular demand, the Wild Dunes Author Event with Mary Alice Monroe has once again expanded into a weekend of fun opportunities for guests during the Martin Luther King Junior three-day weekend. It's your opportunity to connect with Mary Alice Monroe and guest authors at the world-class Wild Dunes Resort. Golf, swimming, spa, and of course the beach awaits you!

The Wild Dunes Author Series weekend hotel package provides a special opportunity for friends, couples, and book clubs to gather at a luxury seaside resort to celebrate a shared love of books. 
HOTEL RESERVATIONS: Call Wild Dunes at 866-499-7122 to receive a promo code for a 15 percent discount off your room rate.  Guests who book at least a one-night stay will receive all of the following:
15 percent discount off your room rate at a Wild Dunes Resort hotel 

Invitation to an exclusive Saturday night wine and cheese event with Mary Alice Monroe and special guest authors in attendance! While tickets last. Limited number available.

Welcome bag of goodies from the authors, sponsors, and Wild Dunes Resort
SATURDAY EVENTS
Mary Alice Monroe is hosting exclusive workshops on Saturday, January 14, 2023 as part of the Wild Dunes Author Event and Weekend experience. Your ticket to the Sunday Main Event unlocks these literary workshops!  Registration is only available to guests who have first purchased a ticket to the Sunday Main Event. 
Please note: the cocktail hour is limited to only Wild Dunes Club Members and Wild Dunes Resort hotel guest ticket holders (booked a minimum one-night stay on the resort property.)
The Islanders: Afternoon Boat Cruise

  Calling all Mary Alice Monroe "Beach House" fans! Enjoy a

picturesque

cruise along the Intracoastal Waterway with Mary Alice Monroe and Angela May on the fabled Barrier Island Eco Tours– the same cruise company that Brett and Cara own in the book series. Experience the beauty of the lowcountry by water, while learning about the local ecosystem and looking for dolphins. This cruise will also pass by Dewees Island, the private community that's the setting of Monroe and May's bestselling middle grade book series,

The Islanders.

Guests will receive a signed paperback copy of

The Islanders

. 



Books & Brunch with Deborah Royce and Mary Alice Monroe

  Enjoy a delicious brunch with fellow book lovers for a memorable conversation. Deborah is the nationally bestselling author of three acclaimed mystery novels. Deborah is also formerly a star of the mega-hit soap opera All My Children. Royce joins us from the northeastern coast where she is the co-owner of the five-star luxury beachfront hotel Ocean House in Rhode Island. This is the perfect experience for book clubs! Books available for purchase.



J.McLaughlin Pop-Up Shop:

Our favorite clothing store is coming to Wild Dunes with a special Pop-Up Shop just for the literary event! Check out their wonderful clothing at

www.jmclaughlin.com

. More details coming soon.

For Event Hotel Guests of Wild Dunes Only:  VIP Wine and Cheese Hour with Mary Alice Monroe and Friends

  Enjoy a glass of wine and cheese at The Gallery at Sweetgrass and a casual chat with Mary Alice and her author friends–

there will be some surprises!

Saturday events are only available to those who are Sunday Main Event ticket holders.

BUY TICKET NOW


TREAT YOURSELF TO THIS LITERARY ADVENTURE
A ticket to the Wild Dunes Author Event is a perfect gift for your book-loving friend, spouse, or family member. And it's a fun experience for book clubs! Treat yourself or surprise a loved one with tickets to the Wild Dunes Author Event and Weekend. Book tickets now to the Jan. 15, 2022. 

For the direct ticketing link, please visit:  https://bit.ly/WildDunesAuthorEvent